Custom Mouthguards in Dubbo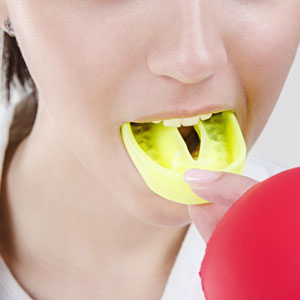 Did you know that contact sports are one of the most common causes of knocked out teeth and general oral trauma? That's why protecting your smile is so important.
As your partner in oral health, we're thrilled to have the perfect option for you and your children when it comes to keeping your smile bright, healthy, and safe.
Mouthguards for Sports
If you or a member of your family plays any form of contact sport, a mouthguard should be non-negotiable. Delroy Park Dental Care is passionate about protecting a person's natural teeth. While we offer comprehensive restorative dentistry treatments, we also prefer to maintain a person's natural teeth rather than to restore them.
The Process
Getting a custom fit mouthguard is simple. First, you'll book an appointment with our practice where we can examine your teeth. Then, we'll use scans to take a digital impression. This impression will be sent to a local lab to construct the comfortable, protective mouthguard. As a fun bonus, children can also select from a variety of mouthguard colours.
When we receive your mouthguard back from the lab, we'll schedule a visit for you to come try it. If everything fits comfortably, you'll be able to leave with it that day and start protecting your smile.
Get Your Mouthguard
Are you or a member of your family involved in a contact sport? We'd love to help you protect your smile with a custom mouthguard. Find out more by contacting us today to book an appointment. We look forward to seeing you in the practice soon.

Custom Mouthguards Dubbo NSW | (02) 6882 8819